Registration, Availability & Parent Info
Registration, Availability & Parent Info
Summer Registration Opens Feb 14th, 2022 @ noon!
There are multiple discounts and scholarships available that you may qualify for. Be sure to read through the information listed on this page to learn more.
Check to make sure there are still spots open for the week you are looking to register for. Availability is listed below and spots are available unless stated otherwise. If you login to Campwise and cannot find the session (week) you are looking for it likely means that the week is full as well.
We use a secure and online registration software called, Campwise. in order to register for camp, you will have to create an account and login.
If you already have an account DO NOT create a new one
Please read the following.
·         Please allow 15-20 minutes to complete your registration.
·         Please have health information (including insurance, date of most recent tetanus shot & physical exam) and credit card available.
·         If your child is on medications, please have them available to enter in their dosage schedule during registration. Medications are given from Sunday dinner through
Friday at bedtime…please be sure to follow this schedule when documenting their medications online. No medications are given on Saturdays, parents are responsible for Saturday medications. If there are medications (such as vitamins or other elective medications) that can be left at home for the week, please consider leaving them at home. Medications must be entered online prior to your arrival at camp.
·         If your child has any food allergies, we must be made aware of their allergies when you register them for camp so we can plan and prepare to meet their needs (opportunity is given during online registration).
·         All registration, health, and payment information will be collected during the online registration process. No additional forms needed.
·         If you are a returning camper, please do not create a new account. If you need help with your existing username and password from past years, please contact our office for assistance at 610-469-6320 or info@campsankanac.org. Please also double check your email address and other contact information and update if necessary. If you are new to the site, please create a new account for your camper.
·         You will have the opportunity to request a cabinmate when registering online. Please see our cabinmate request policy listed on this page prior to requesting a cabin mate.
·         You will have the opportunity to request certain discounts online. All discounts that you request when registering your child are pending until approved by our office. Some discounts require certain data in order to credit your account and may not be applied until we receive certain documentation. Please view our discounts section of this webpage for a full listing of discounts.
·         The minimum deposit is due in order to register your camper ($75 for day camp, $150 for horse day camp, $100 for standard overnight & basketball camps and $200 for Overnight Horse Camp & CIT Program). The remaining balance can be paid at any point between the time of registration and arrival at camp. Online payments are encouraged but we also accept check/money order payments via post mail and credit card payments via phone. Payment in full is due upon arrival at camp. Account balances not satisfied upon arrival will incur a $10 late fee per month until the balance is paid.
·         Spending money can be deposited during online registration into a camp store spending account for your child. We typically recommend $25-35 but you can leave however much or little you would like.
·         Taking care of all payments prior to arrival (store & registration) is highly recommended and will save you time during the drop off process.
·         If you have technical trouble while using our online registration, please contact Campwise, our registration host at 866-433-4548.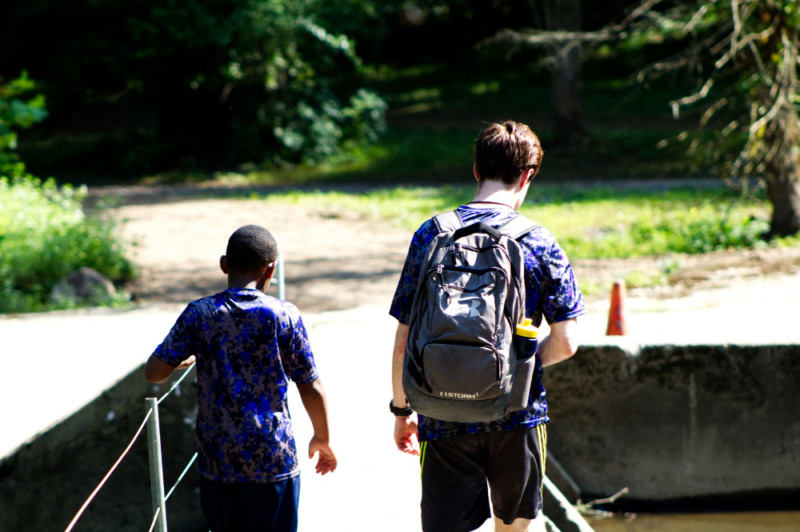 ***Register ONLINE before April 30 and receive a FREE T-shirt specifically designed for those that register early.
One deposit per child per week is due along with the camper Registration Form and Health Form in order to reserve your child's spot in their week(s) of choice.
Payment in full must be completed prior to or upon arrival at camp. Account balances not satisfied upon arrival will incur a $10 late fee per month until the balance is paid.
Camp Sankanac does not accept post-dated checks.
Returned checks are subject to an administrative fee of $50.00.
Please choose your dates wisely and encourage your friends to register early. There is a $20 fee for switching weeks after you are registered.
All registration confirmations will be sent via email.
2021 Summer Camp Cancellation Policy…
Cancellations made after your reservation is placed will result in loss of the deposit (deposit amount varies from program to program). However, if Sankanac needs to cancel a week or change the structure of a program (ex: switching from overnight camp to day camp) or if the registered camper became sick, injured or was exposed to someone with Covid within 2 weeks of arrival at camp, we will issue a full refund which includes the deposit, or we can leave a full credit on your account to be used for future programming. Any other cancellations will result in a loss of the deposit. Payments made beyond the deposit are always refunded, regardless.
*Discounts represented below are for overnight programs only, unless otherwise noted.
Sibling Discount – $30.00 off each additional board fee
New Friend Discount – $50.00 off board fee for each new camper you refer to Camp Sankanac. The new friend MUST list your name on their registration form as the person who referred them to camp. Applicable for day camp & overnight camp programs. Please call us if you have referred another camper.
Camper Worker Program – $100.00 off board fee for teens ages 14-16 who register to be a camper worker. Campers will help in the dining hall before and after the meals. This program fills fast so please register early.
Camp Sankanac Memory Work Program – Call (610-469-6320)or e-mail (info@campsankanac.org) us to find out more about Scripture Memory Incentive Discounts! Must partner with a local church to participate.
Summer Food Service Program (similar to the Hot Lunch program at school) – $35.00 off for overnight camp, $10 off for day camp. To participate in the Summer Food Service Program you must complete the following steps by June 1st, but first please read the  2020-2021 Free Meal Policy Statement for Enrolled Sites and Camps – Camp Sankanac.
1. Click Here for Eligibility Guidelines to see if you may qualify.
2. Click Here for Application Instructions
3. Click Here for SFSP application
4. Scan in and email application to (discounts@campsankanac.org), or mail to 68 Bertolet School Rd Spring City, PA 19475. Forms must be submitted by June 1
Our overnight campers have the opportunity to visit the Trading Post, our camp store, each weekday. The store has items like camp t-shirts/gear, trinkets, soda, candy, snacks and the world's best ice cream! You are able to deposit spending money into their "Trading Post Account" either online in advance (recommended to reduce wait time at drop off) or upon arrival at camp. The account basically works like a debit system each time they come through. We are happy to provide them with their daily balance so they know what they have left. We typically recommend that parents deposit $25-$35 into the account but you are more than welcome to leave as much or as little as you would like. These funds are used by your camper to purchase items in the Trading Post, crafts in our Craft Loft, paintball tickets (paintball is free during boys paintball week) and to give our guest speaker/missionary of the week a love gift for their ministry. Any leftover funds will be refunded in cash and can be picked up in the camp store on Saturday when you pick up your child. Funds under $10 that are left behind by parents on Saturday will not be mailed to you by our office. These neglected funds will be added to the Sankanac Good Samaritan fund for campers who cannot afford to bring spending money. Coins will not be mailed back even if the refund is above $10.
Day campers visit the Trading Post on Tuesdays & Thursdays. Parents are welcomed to send along spending money (cash) on those days.
Parent Info & Packing List
Thank you for your interest in sending your child to Camp Sankanac. We are looking forward to having your child here. As we plan for camp, our desire is to make it a rewarding experience for every child who attends.
Every activity is supervised by a counselor prepared to give helpful care to each camper. The competent leadership provided at Sankanac means each camper will receive the best of care. We are very conscious of the responsibility involved in having children in our care, and every precaution is taken for safety and health measures in every phase of camp life.
With the Lord's enablement, our goal is to make your child's stay a most rewarding and memorable experience. We are trusting each will return home at the end of the camp period stronger physically, mentally and spiritually. Please feel free to contact us concerning any questions you might have.
Please take a look at the appropriate Parent Info sheet for each camp:
Overnight Camp Parent Info Sheet 2021
 All campers are covered by accident and sickness insurance. Camp Sankanac will submit all claims to the parents/guardians/child's insurance company first.
All Campers desiring to stay for more than one week of camp must return home for the weekend.
By registering your child, you give permission to Camp Sankanac to use pictures and video taken during camp for our website and promotional materials.
Here at Camp Sankanac, we understand the importance of nurturing friendships and relationships between campers. We encourage our campers, not only in building relationships with their established friends, but in building relationships with all of the campers in their cabin and village.  Some campers come with a friend and some don't. When assigning campers to cabins, we do our absolute best, not only to accommodate mutual cabinmate requests, but to make sure that the entire cabin dynamic is balanced and as healthy as possible, giving each camper a great chance for a positive cabin experience while here at Sankanac. In order to do both, we ask that campers who would like to room with a friend, please choose one cabinmate per session. The request must be mutual between the two campers. Campers must be in the same village according to their age group (Creekside: 7-10yo, Pinesite: 11-12yo, Cliffside: 13-16yo). Thank you for understanding our policy. For questions regarding this policy, please contact us at info@campsankanac.org. We prayerfully consider each and every camper when assigning campers to their cabins and truly strive for each camper to have the best possible experience at Sankanac.
Stay up to date with TCO
Want to stay up to date on all that God is doing through The Call Outdoors? You can keep up with our speaking events, latest episode releases, new products and other updates by signing up for our regular email communications!